A topographic survey (or land survey) is an exercise undertaken by land surveyors. Using highly specialised survey equipment and skills, we measure the position and height of both the artificial and natural topographic features on the site.

Examples of natural topographic features
Slopes, natural banks and depressions in the land
Watercourses and the extents of ponds and lakes
Isolated trees
Areas of woodland, vegetation and bushes
Examples of artificial topographic features
Boundary treatments including walls, fences and hedges
Roads including top and bottom of kerbs, road crown lines and white line markings
Foot & cycle paths, rough tracks and grass verges
Street furniture such as signage, litter bins, benches etc
Drainage information such as manhole covers & gullies etc
Other visible services and apparatus such as BT, CATV, electric, gas, water & traffic signals
Building footprints
Bridges, ramps, steps & canopies etc
Surfacing such as tarmac, concrete, gravel & grass etc
Shrubs and gardens
Bunds and drainage ditches
These features are typically shown as lines and points on a drawing. Ground levels are included at regular intervals along features while spot levels provide level information in open areas. 
Other important levels such as threshold levels, ridge and eaves levels, tree canopy levels, overhead cable heights and contour labels are included and displayed on the drawing. A professional drawing will be thoroughly annotated including surface types, boundary types and height and any other findings specific to the site.
Why is a topographic survey required?
On very small/flat domestic projects such as home extensions, an architect may be able to achieve successful designs and planning consents without a specialist land surveyor being required. For anything larger or more complex, topographic surveys form one of the key starting points whenever land is to be developed or redeveloped.
Topographical surveys are used by development consultants, architects, designers and engineers. They are used throughout the lifecycle of a project. Having a thorough survey of the development site carried out at an early stage of a project is recommended to mitigate risk and reduce the chance of costly mistakes. Typical examples where a topographical survey would be used, are to: -
Satisfy the requirements of planning authorities
Design a site layout for multiple houses, including the new roads and drainage runs.
Design any site layout whether this be offices, industrial, residential or mixed use.
Design a house extension or single new build within the site boundaries - taking into account the lay of the land and the position and heights of surrounding trees and buildings.
Model earthworks and plan cut and fill, calculating how to move existing soil around a site to minimise the cost of bringing material in or taking it away.
Model flooding of watercourses and their flood plains to assess a sites viability or challenge the flood map.
Design new accesses and realignments and tie into existing highways, junctions and roundabouts.
Resurfacing and redesigning of car parks.
Investigating pooling/standing water issues on areas of hard standing or low lying land.
Route planning for new buried services.
Plot the findings of evironmental studies such as ecology surveys and tree/arboricutural surveys.
Plan geo-technical site investigations.
Provide context to underground utility mapping survey results.
Measure land areas accurately.
Set out the position of successfully designed and consented developments, for contractors to start building.
Resurvey and produce as-built drawings of the finished project.
Register and transfer land and easements with Land Registry through the creation of title and transfer plans
How is a topographic survey carried out?
Depending on the size of the area of land to be surveyed, a single land surveyor or several teams will physically visit the site. After setting up their total stations, reflective prisms and gps units on metal nails hammered into the ground (control stations), they begin to measured the land, one point at a time. 
The nails (or their coordinates) are used to check the accuracy of the measurements throughout the day and they also allow extra survey works to be added easily. These control stations will also be used to accurately set out (mark on the ground) the positions of new buildings, roads and boundaries etc - after the new land use has been designed. These are the standard "boots on the ground" approaches to topographical land surveying.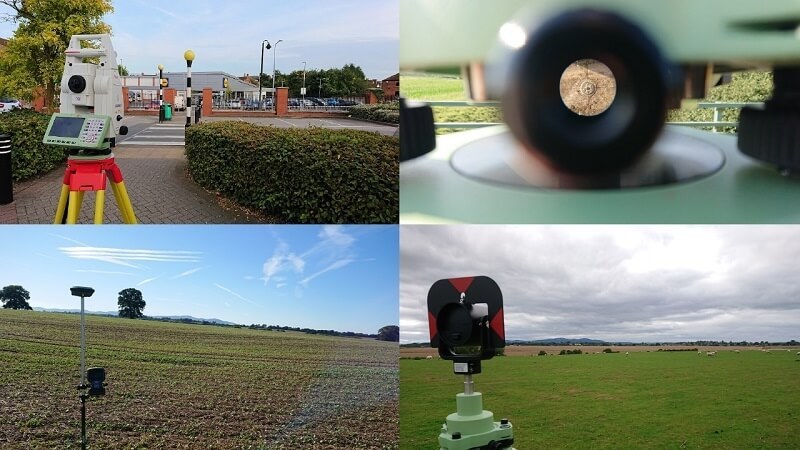 What about Drone Surveys?
In more recent times, laser scanning and drone survey photogrammetry provide new possibilities. These are referred to as remote sensing methods. The land surveyors spend less time on site, adopting a "blanket" approach to collecting data. Everything that is visible from the remote sensing equipment is stored in a point cloud as millions of points, each with it's own coordinate and colour. Line and level data can then be extracted from the point cloud, to produce a traditional topographic survey drawing.
A point cloud from a drone survey, generated using photogrammetry...
...a textured 3d model produced from the point cloud.

Adding drone survey imagery to to a topographical survey creates a useful and accurate backdrop to traditional topographic line and level features.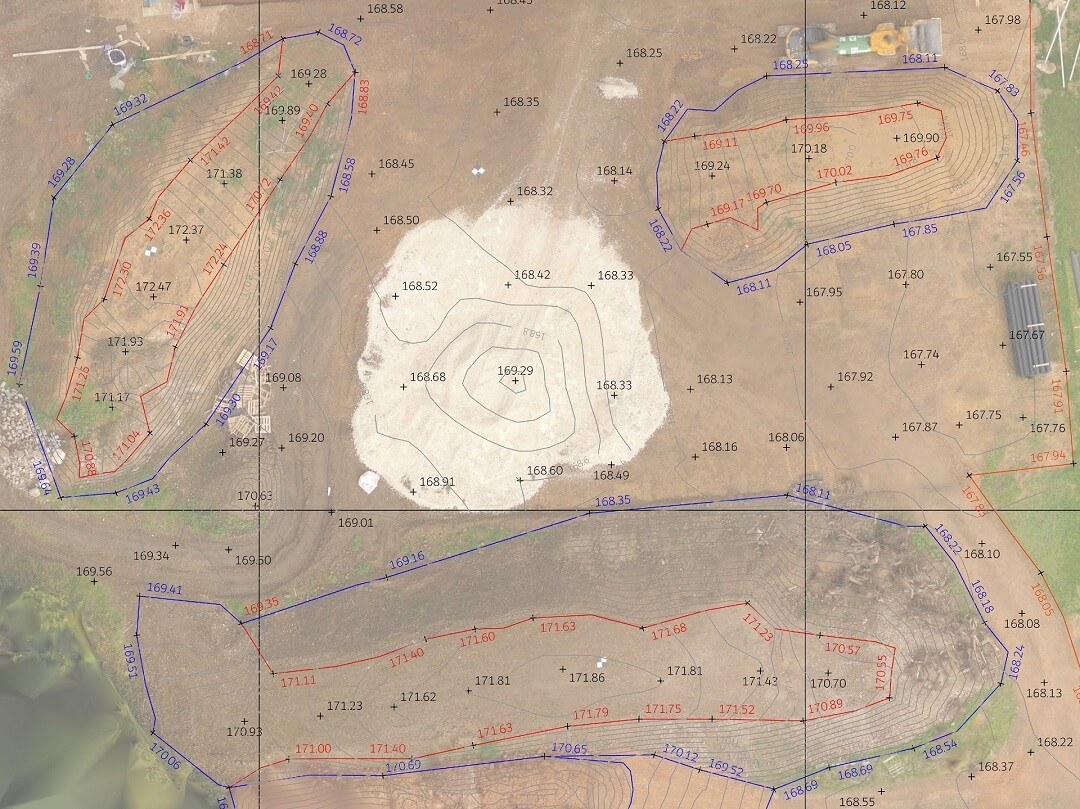 Drone survey data collection offers extremely efficient data collection on large areas of open terrain and is usually deployed for stock pile surveys, quarry surveys, post demolition surveys and a wide array of inspection and progress reporting tasks. Speak to a land surveyor to discuss whether incorporating a drone survey is suitable for your topographic survey.
How are the drawings delivered?
Historically, the results of the topographic survey were delivered manually drawn and later, plotted onto a physical medium. When printing, the minimum thickness of a line dictated the accuracy of the survey, the level of detail and the scale of the drawing. Drawings are sometimes still issued in paper form, but usually the underlying CAD drawing is provided instead, with a PFD for printing if required.

CAD drawings allow us to scroll our mouse wheel to zoom in, and the line doesn't get any thicker on our screen. We can click two buttons and all the existing buildings will disappear but a background map from 25 years ago will be displayed instead, or a 3d model of something new. Paper plans are now used as a prop for site walkovers and meetings whilst the drawings are delivered digitally and worked with by a range of professions within the property and construction industry. 
A view from a 2D CAD survey file produced by Topographical. The layers window is also visible.
A view from a 3D CAD survey file produced by Topographical.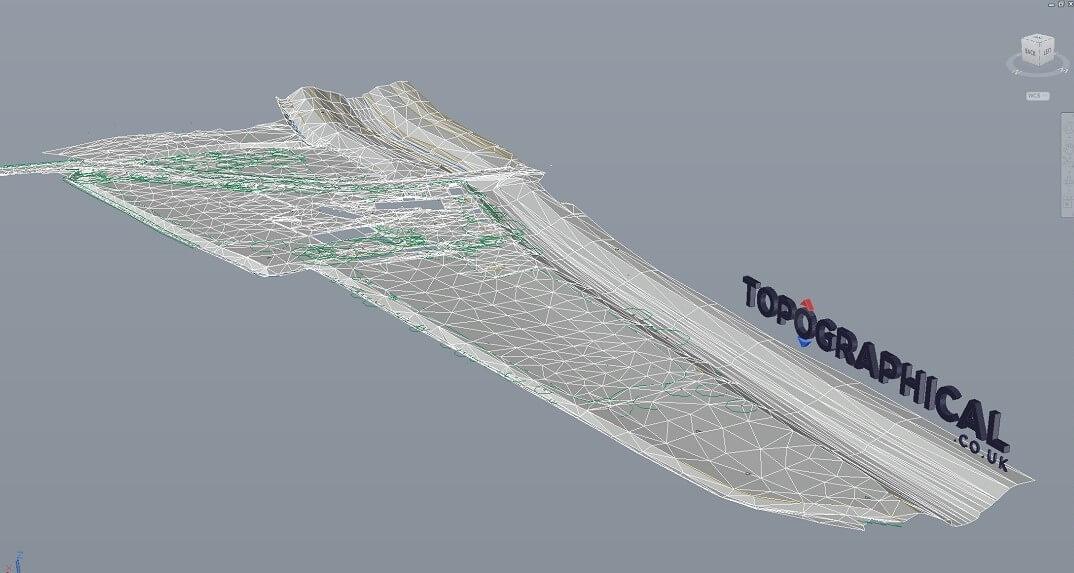 A PDF survey file produced by Topographical. Set up to be printed onto paper for a traditional scaled survey drawing.


Speak to a land surveyor about your project:
01158 497685
surveys@topographical.co.uk